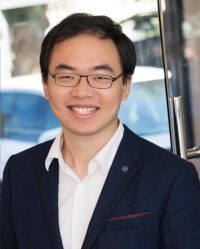 Rui Liu, M.S
Rui brings a strong professional and academic background in data science with a robust skill set in statistics, applied mathematics, and atmospheric science. After completing his master's degree in Statistics from the University of California, Irvine (UCI) in 2016, he worked as a data specialist in USDA Forest Service Predictive Program and later a data scientist at Atmospheric Data Solutions (ADS). Rui has abundant experience in building machine learning models to digest high resolution datasets and solve extreme weather problems.
Our Vision
ADS strives to provide the best possible solution utilizing the most credible science and technology 
His interests include artificial intelligence and deep learning technology with applications to a wide range of meteorological topics. He has collaborated on several projects including lightning prediction in Southern California, Santa Ana Wind monthly forecast, live fuel moisture modeling, vegetation risk management. Rui's skills include advanced modelling (logistic regression, random forest, CNN, SVM and ARIMA), programming (Python, R, MATLAB) and database management (MySQL, NetCDF).
Rui was a meritorious winner in US Mathematical Modeling Competition (MCM) in 2013 and a recipient of the Scholarship for Excellence in Research  and Innovation at Zhejiang University (ZJU) in 2014. He is bilingual and bi-cultural English and Mandarin Chinese.
Building products that mitigate and manage the
high impact weather risk.